Primary Care 2018
About Conference
EUROSCICON
"7th Edition of International Conference on Family Medicine & Primary Care" in Paris, France from February 22-23, 2018.
We amiably invite all the prominent scientists, students and ambassadors to engage in our Family Medicine & Primary Care Conference to share and emphasize various research works and contribute to the vast growing field of Family medicine and Primary Care.
Primary Care 2018 Symposium targets the undiscovered phases of Family medicine and Primary Care Research which gives an inimitable chance to researchers all over the world to participate, share and perceive new thoughts and exploration work. Our theme "Exposed to Innovative Family Medicine and Primary Care" focuses on understanding the unknown facts of the Primary Care, Health care and its research. The three day conference embraces the workshops and keynote speech from some prominent researchers who outshine in the field of focus, Our international conference also inspires the involvement of students, impending researches as we are compering Young research Forum and best poster award at our conference.
ABOUT US: EUROSCICON is the longest running independent life science events company with a predominantly academic client base. Our multi professional and multispecialty approach creates a unique experience that cannot be found with a specialist society or commercially.
Sessions
Track 1 : Primary Healthcare
Primary care is that the extremely necessary initial care that's based on scientifically well-done and universally acceptable methods and technology, that create health care simple to urge to individuals and families in a very community. The International Classification of primary care (ICPC) is a standardized tool for understanding and analysing data on interventions in primary care by the reason for the patient visit. Driven by population magnification and aging, the overall number of office visits to primary care medicos is projected to increment from 462 million in 2008 to 565 million in 2025. Medical care additionally includes several basic mother-based and child health care services, like family planning services and vaccinations. Comprehensive Primary Care is an approach to health care that highlights social justice, equity, community control and social change.
Track 2 : Family Medicine and Primary Care
Family medicine could be a restorative strength focused on board social protection for people of all ages; the professional is known as a family doctor, family specialist, or once within the past family proficient. It is a phase of primary healthcare that has continuing with and thorough medicinal services for the individual and family over all ages, genders, Migrant Health Infectious diseases, and parts of the body. As expressed by the world Organization of Family Doctors, the aim of family medication is to provide individual, comprehensive, and proceeding with look after the person within the connection of the family and the community. The issues of qualities hidden this follow are commonly called primary care ethics. Of the primary care (Family Pharmaceutical, General Inside Medication, and Paediatrics), family doctors offer the most care, overseeing regarding one-fourth of all primary care visits including Cancer research, cardiology diseases, Dental healthcare, diabetes and Obesity, Skin healthcare, HIV-AIDS healthcare.
Track 3 : Primary Care in ENT
A medical and surgical specialty concerned with the diagnosis, management, and treatment of diseases and disorders of the ear, nose, throat (ENT) Subspecialty areas within otolaryngology include paediatric otolaryngology allergy, facial plastic and reconstructive surgery, head and neck, laryngology and rhinology Some otolaryngologists limit their practices to one or more of these seven areas. Otolaryngology is commonly called ENT.
Track 4 : Primary Care Medicine
Primary Care Medicines are those who satisfy the primary health care needs of the population. They are selected with due reference to public health connection, proof on effectiveness and safety, and comparative cost-effectiveness. A primary care doctor is a specialist in Family Medicine, internal medicine or Paediatrics World Health Organization provides definitive care to the undifferentiated patient at the purpose of first contact, and takes continuing responsibility for providing the patient's comprehensive care. Primary care nurses adopt the definition of health within the Declaration of alma-ata that health is a state of complete physical, mental and social well-being and not simply the absence of disease or infirmity. Physical therapy Specialists offer Primary Health Care experience in health promotion, prevention and screening, triaging, and treating numerous conditions. Primary care providers play a vital role in caring for cancer and Metastasis. Capital Intensity within the nursing care Facilities industry is low. The industry requires comparatively high amounts of labour input and only moderate levels of capital input. For each $1.00 spent on labour, only $0.06 is spent on capital equipment. This figure has remained comparatively unchanged over the past 5 years. Total labour prices represent regarding 41.9% of industry revenue. Significant levels of private and Nursing Care are provided to patients.
Track 5: Primary Care Paediatrics
Paediatrics deals with the treatment of infants, children, and adolescents, and therefore the age limit typically ranges from birth up to eighteen years of age. A doc World Health Organization practices during this area is known as a paediatrician World Health Organization is specialised in child healthcare. The word paediatrics mean "healer of children"; they derive from 2 Greek words. Paediatricians work both in hospitals, significantly those working in its specialised subfields like paediatrics, and as Medical Care Physicians World Health Organization specialise in kids. In medical contexts, new-born refers to an infant within the first twenty eight days after birth; the term applies to premature infants, post mature infants, and term infants. Before birth, the term foetus is used. Breastfeeding is that the suggested methodology of feeding by all major infant health organizations. Neonatology may be a subspecialty of paediatrics that consists of the treatment of new-born infants, particularly the sick or premature new-born baby. Pregnant women are suggested to concentrate to the foods they eat throughout gestation, like soft cheese and certain fish, in order to reduce the chance of exposure to substances or bacteria which will be harmful to the child health.
Track 6 : Aspects of Primary Health Care
1. Adequate supply of safe drinking water and basic sanitation
There is a close relationship between supply of water and sanitation. If there is no supply of water, the sanitary condition will automatically be affected. It is due to the deficiency of safe drinking water and poor sanitation, the gastrointestinal diseases like diarrhoea, cholera, typhoid; roundworm, dysentery, etc. make us the victim. Therefore, a good supply of safe drinking water is absolutely necessary.
Good health is essentially and inherently important to live a worthwhile human life. Health education communicates with the facts that help to promote the ways of healthy living and to solve basic health problems.
3. Nutrition
A balanced diet is highly obligatory to live a healthy life. Sufficient supply of food and management of proper nutrition is required to get a balanced diet. Different health related problems emerge along with malnutrition. Therefore, proper supply of food and management of nutrition is one of the important aspects of Primary Health Care.
Track 7 : Quality in Primary Care
Primary Care quality refers to commitment to continuously up the standard of care, specializing in the preferences and desires of those who use services. The goal of health care is to produce medical resources of top quality to all or any World Health Organization would like them. General practice incorporates a key role to play in promoting health both at an individual and community level. Primary care clinicians have got to increase their capability, capability and responsibility for clinical quality improvement. Primary care practices with a vigorous qi orientation frequently seek to ameliorate their own performance and also the outcomes of their patients. Primary care is that the cornerstone of health care that's efficacious and efficient and meets the desiderata of patients, families, and communities.
Track 8 : Health Care Delivery
Our health system is shattered and much of the problem lies with the fragmentation of our delivery system which operates low-quality and ineffective care in a country filled with highly skilled Health Care Professionals.
The health care sector in the United States consists of a collection of clinicians, hospitals and other health care provisions, insurance plans, and purchasers of health care services, all driving in various configurations of groups, networks, and independent practices. Some are based in the public sector; others manage in the private sector as either for-profit or not-for-profit entities. The health care sector also encompasses some voluntary regulators and others governmental regulators.
The Affordable Care Act offers opportunity for delivery system reform to assure that patients are getting the proper care at the proper time in a coordinated, collaborative and organized manner.
Track 9 : Primary Care: The Challenges of a Changing World
Today, we face unparalleled demographic and epidemiological changes. In 2005, 19 per cent of all deaths were among children and 53 per cent were among people aged 60 years and older. Non-communicable disease mortality will increase from 61 per cent to 68 per cent universally, and alike tendency will occur in Africa despite the HIV/AIDS pervasive and poor socioeconomic circumstances.
Scientific and technological alterations bring the probability of new prevention and care possibilities. Information and communication technology generates opportunities for more thorough and undeviating documentation of decisions at the point of care, better progression of care, and more effectual communication between organisations and sectors. Diagnostic innovations create convenient and cost-effective opportunities for the refinement of diagnostic accuracy. New drug treatments are materializing and may change the approach to diseases.
Track 10: Dental Primary Care
Dental care is that the Oral hygiene, the apply of keeping the mouth and teeth clean in order to dental disorders. Family Physicians usually encounter patients with dental infections, like cavity and periodontal disease. Cavity is caused by bacteria that destroy the enamel and dentin. It is detected by an oral exam that shows stained pits or fissures on the tooth surface. Use of fluoride is that the best prevention measure for bacterial plaque. Untreated cavity could attain pulpitis and, eventually, to necrosis of the pulp. In irreversible pulpitis, the tooth dies and therefore the patient could have a localized symptom which will spread to close tissue. Family physicians are in a very smart position to deal with this morbidity. They will acknowledge common dental infections and, in some circumstances, could initiate treatment of great infections before referral. Family physicians can even advise patients on how to prevent dental infections and supply proper dental medicine.
Track 11 : Health Maintenance
A systematic program or procedure planned to resist illness, maintain maximum function, and advocate health. It is central to health care, chiefly to nursing care at all levels i.e.., primary, secondary, and tertiary and in all patterns. The Health Maintenance System alerts medical staff on the estimate of preventative care expectations for any determined patient beside treatment standards; need to maintain the persistent disease conditions of the patient.
Track 12 : Adolescent Medicine
Adolescence is the second decade of life, starting just before the teenage years. During this stage of life, you may find you have complications that you did not have as a child. As your body and mind alter, you start to have new kinds of medical and emotional concerns. For this reason, it can be useful to speak with doctors and nurses about your thoughts, feelings and behaviours.
Adolescent Medicine also known as Hebiatrics. It is a medical subspecialty that is emphasized on care of patients who are in the adolescent phase of evolution, generally varying from the last years of elementary school until graduation from high school.
Adolescents are concerned with a broad diversity of issues, like Hyperactivity, Distractibility, low grades in school or avoiding school, Low self-esteem, depression and anxiety. These conditions often show up in adolescence, and can be very severe. Hence, Behavioural Health Programs help adolescents to deal with such conditions.
Track 13 : Community Health Services
Community Health Workers are known by many different names in different countries. (CHW) embraces a variety of community health in the communities from which they come. A widely accepted definition was proposed by WHO: Community health workers should be members of the communities should be selected by for their activities, should be supported by the health system but not necessarily a part of its organization, and have shorter training than functions related by the health services and national certification authority.
Track 14 : Primary care to Prevent Infectious Diseases
A rare disease is any disease that affects a little portion of the population. Most rare diseases are genetic, and thus are present throughout the person's complete life, even if symptoms do not instantly appear. Many rare diseases appear untimely in life, and about 30 per cent of children with rare diseases will perish before reaching their fifth birthday. With a single recognized patient only, ribose-5-phosphate isomerase inadequacy is considered the rarest genetic disease. A disease may be examined scarce in one part of the world, or in a specific group of people, but still be prevalent in another.
Track 15 : Clinical Health Services
Clinical health service means a particular diagnostic, therapeutic, rehabilitative, preventive or palliative method or a series of such methods that may be individually recognised for billing and accounting purposes. It mainly concentrates on disease prevention, community, and individual education and wellness. The programs under clinical health service comprises of traditional preventive health services such as immunizations, maternal-child health care, and communicable disease control, fixed assistance programs such as WIC, and supplemental food program, and developed medical services such as Primary care for Children and adults, and dental services.
Track 16 : Gerontology
Geriatric Medicine focuses on health care of elderly people. Its objective is to boost health by preventing and treating diseases and disabilities in older adults. There is no age limit at which patients may be under the care of a geriatrician or geriatric physician, a physician who specializes in the care of elderly people. Rather, this decision is regulated by the individual patient's requirements, and the availability of a specialist.
It is significant to note the difference between geriatrics, the care of aged people, and gerontology, which is the study of the aging process itself. Geriatrics differs from traditional adult medicine because it focuses on the distinct needs of the elderly person.
Track 17 : Patient Safety in Family Medicine
Patient safety is sometimes equated with preventing error. This seems innocent enough, but is a potentially limiting assumption. There is no question that an understanding of error is fundamental to patient safety; however, there are differences of view as to whether the focus of patient safety research and practice should be on error or on harm. However, when we consider the overall aim of Patient Safety there are a number of reasons for keeping harm in the forefront of our minds.
Track 18 : Immunization in Primary Care
The creation of immunity usually against a particular disease especially treatment (as by vaccination) of an organism for the purpose of making it immune to a particular pathogen immunization against polio.
Track 19 : Palliative Care
Palliative care is a multidisciplinary approach that upgrades the quality of life of patients and their families facing the problem related to life-threatening illness, through the prevention and solace of suffering by means of early identification and exemplary assessment and treatment of pain and other problems, physical, psychosocial and spiritual - World Health Organization.
Palliative care is provided by a distinctively-skilled team of doctors, nurses and other specialists who come together and work with a patient's other doctors to furnish an extra layer of support. It is suitable at any age and at any phase in a severe illness, and it can be provided along with therapeutic treatment.
Track 20 : Primary Care Health Records
Electronic health records or "EHRs" make it possible for your health care providers to better manage your care through secure use and sharing of health information. Electronic health records are similar to electronic medical records, which are a digital version of the paper charts in a health care provider's office. However, electronic health records are built to share information with other health care providers, such as laboratories and specialists, so they contain information from all the clinicians involved in your care.
Market Analysis
Scopes and Importance:
In the progressively shattered world of health care, one thing remains constant: family physicians are devoted to treating the whole person. Family medicine's cornerstone is an on-going, personal patient-physician relationship focusing on united care. Family medicine, previously known as Family Practice is a speciality dedicated to inclusive health care for people of all ages; the specialist is named a family physician or family doctor. Unlike other specialties that are limited to a specific organ or disease, family Medicine.
If today's system for delivering primary care remained fundamentally the same in 2020, there will be a projected shortage of 20,400 primary care physicians.
The Affordable Care Act includes a number of investments and incentives to increase the supply and improve the distribution of primary care practitioners (PCPs), as well as transform the health care
Personalised Medicine (PM) represents one of the most innovative new concepts in healthcare. It holds real promise for more effective early diagnosis and more effective and less toxic treatments for patients, for improved medical services to citizens, and for improving the overall health of the population. As such, PM can serve as a potent engine to help drive economic growth. However, the realisation of the full potential of PM requires close collaboration between all stakeholders. These include researchers, clinicians, research institutions, healthcare providers, research and technological development (RTD) funding agencies, public health agencies, policy makers, industry, regulatory authorities, health insurers and, crucially, the citizen.
Members associated with Primary Care & Family Medicine:
· Family medicine doctors
· Internal medicine doctors
· Gynecologist or obstetrician
· Geriatricians
· Pediatricians
· Hand surgeon
· Hematologist
· Hepatologist
· Hospitalist
· Hospice and palliative medicine specialist
· Hyperbaric physician
· Infectious disease specialist
· Internist
· Interventional cardiologist
· Medical examiner
· Medical geneticist
· Neonatologist
· Nephrologist
· Neurological surgeon
· Neurologist
· Nuclear medicine specialist
· Obstetrician
· Occupational medicine specialist
· Oncologist
· Ophthalmologist
· Oral surgeon (maxillofacial surgeon)
· Orthopedic surgeon
· Otolaryngologist (ear, nose, and throat specialist)
· Pain management specialist
· Pathologist
· Pediatrician
· Perinatologist
· Physiatrist
· Plastic surgeon
· Psychiatrist
· Pulmonologist
· Radiation oncologist
· Radiologist
· Reproductive endocrinologist
· Rheumatologist
· Sleep disorders specialist
· Spinal cord injury specialist
· Sports medicine specialist
· Surgeon
· Thoracic surgeon
· Urologist
· Vascular surgeon
Number of Universities Associated With Primary Care:
The doctor's duties are changing, influenced by advances in medical knowledge and technology; the increasing use of computers, handheld devices, and electronic medical record systems; and growing pressure to track and measure clinical data. CanMEDS, a Canadian initiative to optimize patient outcomes, suggests one possible modern job description, listing seven "essential abilities" for physicians: medical expert, scholar, communicator, professional, collaborator, manager, and health advocate. Some educators and health planners might add "team member," while practicing physicians, beset with mounting demands for documentation and measurement, might suggest including "typist" or "data recorder."
The Strength of Primary Care In Europe:
Outcome measures covered three dimensions of primary care structure: primary care governance, economic conditions of primary care, and primary care workforce development; and four dimensions of primary care service-delivery process: accessibility, comprehensiveness, continuity, and coordination of primary care. The primary care dimensions were operationalised by a total of 77 indicators for which data were collected in 31 countries. Data sources included national and international literature, governmental publications, statistical databases, and experts' consultations.
Associations in Europe:
Academy of Allergology Clinical Immunology
Academy of Dermatology & Venereology
Association of Senior Hospital Physicians
Board of Cardiovascular Perfusion
British Association of Dermatologists
Drug Information Association
European Association for Cardio
European Association of Neurosurgical Societies
European Association of Plastic Surgeons
European Association of Radiology
European Board for Accreditation in Cardiology
European Data in Health Research Alliance
European Dermatology Forum
European Federation of Allergy
European Federation of Salaried Doctors
European Histamine Research Society
Market Growth of Primary Care Research:
The economics in Primary Care 2.0: The average costs for a hospital emergency department visit is $1,354 vs. a primary care visit averaging less than $150 nationwide. According to the Department of Commerce, the average household spends 20 percent of its discretionary spending on health care, with high-deductible plans becoming the dominant form for employee benefits. The 2015 Milliman Medical Index puts the total costs for a family of four at $24,671 last year. The average co-pay for a primary care visit to a traditional practice is $23 vs. $36 for a specialist. But in a high-deductible plan, individuals are generally out-of-pocket the entire amount, prompting many to delay preventive care altogether. And acceptance of primary care services in alternative sites (6,400 urgent care centers, 1,840 retail clinics), expansion of online primary care services vis a vis telemedicine and self-monitoring devices in the digital health domain is driving efficiencies and access up and costs down.
Since passage of the ACA in March 2010, the Centers for Medicare & Medicaid Services has been relentless in expanding the significance of primary care in its programs: CMS' Medicare Shared Savings Program (begun January 2012), readmission penalty (October 2012), and hospital value-based purchasing programs (October 2012), depend heavily on well-orchestrated primary care management. In its MSSP (accountable care organizations), of the 97 that achieved savings bonuses in the second year of the program, 46 percent of the bonuses went to primary care physicians, 20 percent to specialists and 27 percent to the hospitals. And earlier this month, it announced its Comprehensive Primary Care Plus initiative which will pay PCPs a monthly fee to manage populations in 20 regions. Primary Care 2.0 is clearly the focus of Medicare's attention going forward.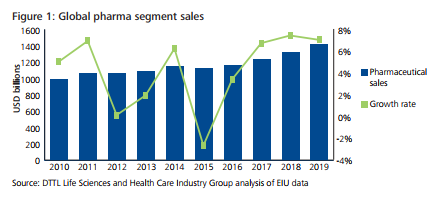 The antidepressants market in the Europe is among the highest in the world and is expected to grow as they are taken not only for depression but also for diseases that are not related to depression such as the non-psychological issues such as sleeplessness, eating disorders, neuropathic pain, obsessive compulsive disorder, substance abuse etc. USFDA has approved use of antidepressants for treating other conditions as well. One of the major reasons behind this is patent expiration of major drugs and increasing use of the generic drugs. The high priced branded drugs have been replaced by generic drugs which are three times cheaper as compared to the former. Sales of branded drugs were $7.9 billion in 2013 globally from $11 billion in 2011. Patents expired for several blockbuster branded drugs such as Prozac, Zoloft, Lexapro, and Cymbalta and generic drug manufacturers are making these drugs now. Duloxetine (Cymbalta), which had a market of $5.2 billion (2013) is expected to see the market shrunk to $3.06 billion by 2021. In the early 2000, Prozac, one of the most popular drugs had a sale of $2.5 billon, which fell to $177 million in 2002 after patent expiration. Similarly Zoloft peaked to $3.3 billion (2005) before falling to $477 million after patent expiration in 2006. Major factors expected to drive the depression drugs market, globally, are fall in the prices of antidepressants due to the entry of generic drugs, and increasing awareness of depression as a disease.
The primary health care workforce in europe is organized around a multidisciplinary team, who work in primary health centres. They provide a wide range of services with the main emphasis on prevention and promotion of health, acute and chronic care, homecare and community care activities. The core of the team is made up of physicians who are family and community medicine specialists, paediatricians, nurses, auxiliary nurses, social workers, dentists and administrative staff. The team works closely with midwives, gynaecologists, public health professionals, pharmacists, radiologists, physiotherapists and laboratories.
Global Health Care Market Report:
The Economist Intelligence Unit (EIU) reports that health care spending in the 60 countries that it covers rose by 2.6 percent in nominal U.S. dollar terms in 2014 but that spending is forecasted to dip in 2015, reflecting the current weakness of the euro and other currencies against the U.S. dollar.1
And while spending growth is expected to pick up beginning in 2016, the pressure to reduce costs, increase efficiency, and prove value remains intense. Because of these contradictory trends, global health care spending is expected to increase by only an average of 4.3 percent in 2015-2019, more slowly than it did before the 2009 recession. Spending as a percentage of GDP is also expected to decline, from around 10.3 percent in 2014 to 10.1 percent in 2019.2 Perhead health spending is projected to increase from $1,145 in 2014 to $1,412 in 2019.
Echoing the EIU's forecast of a 2015 dip in global health care spending, total global pharma sales (in nominal U.S. dollar terms) are expected to drop 2.7 percent that same year. However, the longer-term outlook is more positive: pharma spending growth should match health spending growth at an average of 4.3 percent during 2015-2019, and global pharma sales should reach $1.4 trillion by 20194
In a recently research study titled, the Global treatment resistant depression market is expected to provide sustainable growth opportunities during the forecast period from 2017 to 2020.